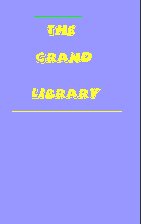 Statement from Amazon.co.uk:
Amazon.co.uk is pleased to have John's Place in the Amazon.co.uk Associates Programme. We've agreed to dispatch items and provide customer service for orders we receive through the links on John's Place.
Amazon.co.uk Associates feature selected products in an editorial context that help you make the right choice. We encourage you to visit John's Place regularly to see the new titles they are recommending.
Thank you for shopping with an Amazon.co.uk Associate.
For more on Amazon.co.uk's privacy policy, click here.
Sincerely,
Simon Murdoch
Managing Director
Amazon.co.uk
---
John's Statement:
"JohnsBooks is a participant in the Amazon EU Associates Programme, an affiliate advertising programme designed to provide a means for sites to earn advertising fees by advertising and linking to Amazon.co.uk."
Please note that all reviewed books in this section, except for the Amazon Book of the Month, are ones I have read.
Most of my book reviews have links to Amazon web sites which allows you to order a copy of the book. The book on offer is the cheaper paperback unless explicitly stated otherwise.
I have personally ordered books from Amazon and have found the service to be quite secure, so don't worry!
As an Amazon UK and Amazon.com Associate I earn from qualifying purchases. A qualifying purchase is one that you make from one or other of these sites
---
Amazon Web Sites
You can now order books either from Amazon.co.uk or Amazon.com. there are a number of reasons that you might with to do this: the US/UK covers might be more to your taste (the Discworld books are the main sinners here!), or despite my best efforts to find an exact match, the two countries editions might be slightly different - the Masterworks editions are the most likely to suffer from this as they are a purely UK production, their US equivalents are catch-as-catch-can.
Amazon.co.uk links are accessed by clicking on the book cover underneath the UK flag whilst clicking on the book covers beneath the US flag will allow you to order from Amazon.com. I have found that ordering from the US can take about 12 or 13 weeks for goods to reach the European side of the Atlantic if you select the surface mail option. Don't forget that there is a Free Postage offer on purchases over a certain value - unfortunately, not to foreign addresses, however!
Amazon.co.uk often carries books that are otherwise only available in the United States and can generally get these books to you within a fortnight. Amazon.com does not, by-and-large seem to carry UK books, the major exception being the Gollancz Classic Science Fiction range. They claim a delivery time of a couple of weeks for these books as well. Please let me know how this works when you receive them!
---